PRODUCTS
Contact us
86 17344894490
---
Mobile:
86 17344894490
---
Email:
info@signialuminium.com
---
Skype:
signialuminio
---
Sales Office:
A126 Building 4, No.89 Science Avenue,National HI-Tech Industry Development Zone,Zhengzhou,Henan,China
---
Factory Address:Industrial District, Xin'an, Luoyang city, Henan Province,China
---
Lighting Mirror Aluminum Sheet
 
Nowadays aluminum is a very fashionable metal, widely used in every field. Due to its advantages of corrosion resistance, mechanical strength and excellent plasticity, aluminum is suitable to be used in various mechanical processing. In addition, its excellent light reflection properties and surface processing technology make aluminum applicable to all types of lighting equipment.
Signi Aluminium always focuses on bringing anodized aluminum used in lighting technology field. In the past years, we've been accumulating a lot of experience in lighting.
The main application scopes of products used in lighting include: 
•    LED lamps and lanterns 

Decoration Mirror Aluminum Sheet
 
Architects and designers are constantly trying to find a kind of new material used in their buildings. This material can improve functionality, reduce cost and adverse effect to environment, make a design more eye-catching and create beautiful architectural space and accessories.
Signi Aluminium anodized aluminum coil sheet just caters to the above requirements.
Signi anodized aluminum is a kind of high-tech material which has various surface effects and colors.
The advantages of Signi anodized aluminum:
•  Top-grade quality. Refined, luxurious and sparky surface
•  Low proportion, only 1/3 of stainless steel weight and easy for further fabrication
•  Sapphire grade surface hardness for scratching resistance
•  Environmental friendly material
•  Anti-interference, shield electromagnetic wave
•  High thermal conductivity, which perfectly for electronic device
•  High finger print resistance and do not attract dust
•  The oxidizing layer will not crach, peel off or flake
•  Multiple colours can provide unlimited possibilities for device design
•  Simplified flow, high yield productivity, cost saving
---

Architecture Mirror Aluminum Sheet
 
Anodizing is an electro-chemical process to modify the surface of aluminum to create a hard and durable ceramic layer that is corrosion and UV resistant. The anodized surface is transparent, retaining the metallic appearance, and can be combined with colouring to offer a wide range of colour options.





Anodized Aluminum Defies Comparison to Painter and Stainless Steel Materials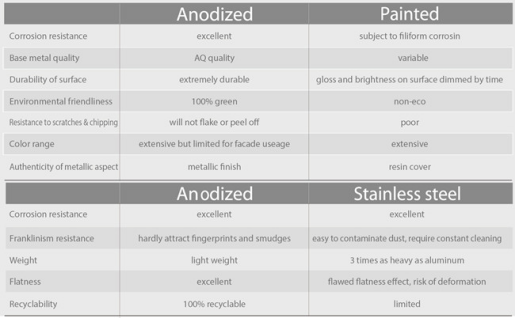 Correlation Testing
 
Sealing test according to EN ISO 3210
Anodic layer thickness test according to EN ISO 2360
Gloss measurement
Neutral salt spray test in according with ISO 9227
Kesternich test(SO2 atmosphere)in according with ISO 6988
Weather resistance to DIN 50017
Continuity of the anodic layer according to ISO 2085
---
Consumer Electronics Mirror Aluminum Sheet

The applications of Signi mirror products for electronic consumer include: notebook computers, mobile phones, digital camera, MP3, memory card, PDA, DVD, portable electronic products and television, etc.

Signi aluminum have various surface effects, such as Brilliant Special, Fine Sand, Metalic Sand, Cross, Linen, Erotex, Hairline Finish and Satin Matt, etc.
Signi aluminum also have rich colors, such as China Red, Ocean Blue, Titanic Gold, Copper, Dark Bronze, Stainless Steel, Smoke and Crystal Black, etc.

The advantages of Signi anodized aluminum coil sheet :

• Top-grade quality. Refined, luxurious and sparky surface
• Unique finish
• Low proportion, only 1/3 of stainless steel weight and easy for further fabrication
• Sapphire grade surface hardness for scratching resistance
• Environmental friendly material
• Anti-interference, shield electromagnetic wave
• High thermal conductivity, which perfectly for electronic device
• High finger print resistance and do not attract dust
• The oxidizing layer will not crach, peel off or flake
• Multiple colours can provide unlimited possibilities for device design
• Simplified flow, high yield productivity, cost saving
---